Get to know Formosa's August 2020 - January 2021 ambassadors with a quick introduction!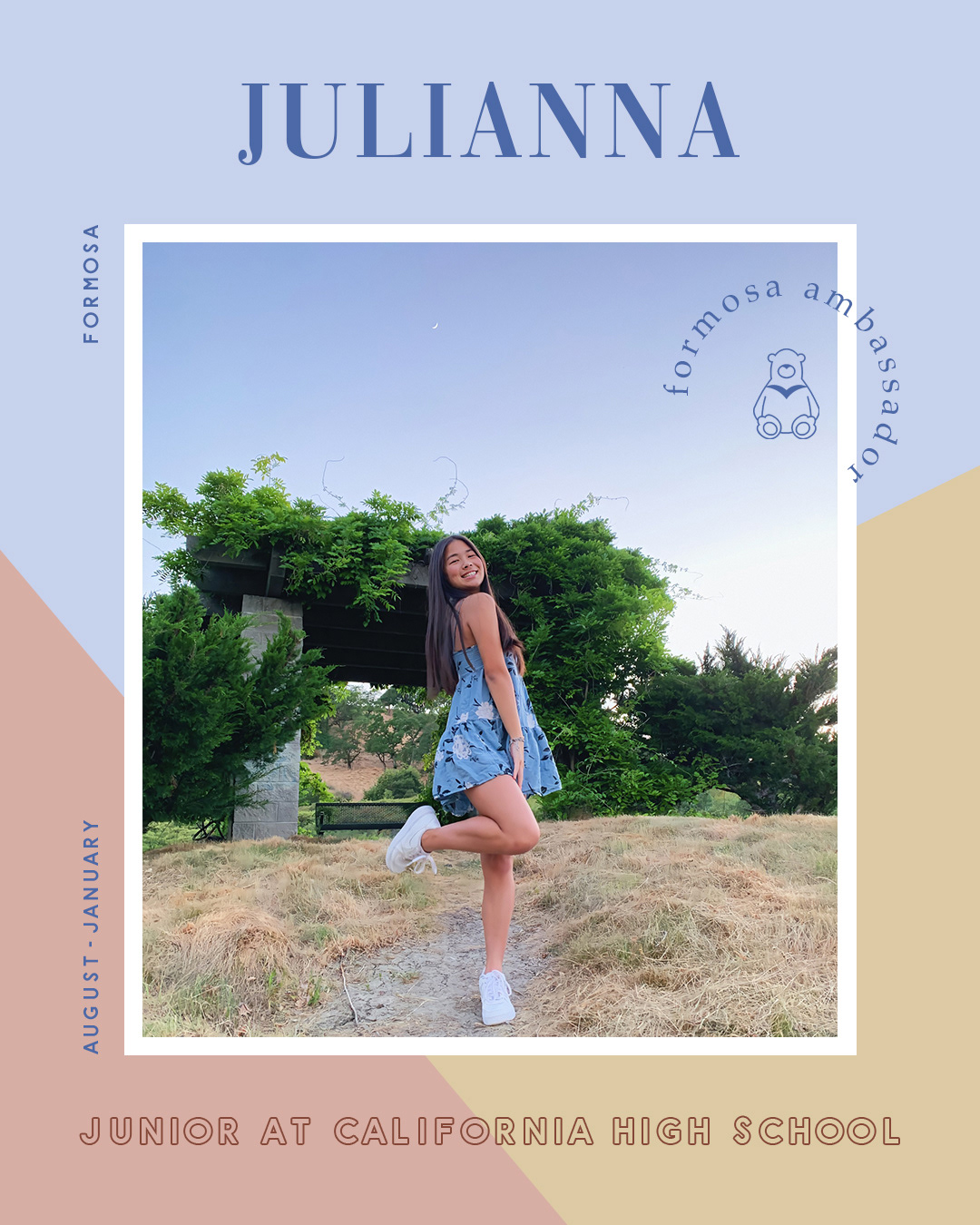 Hi! My name is Julianna, and I am a  junior at California High School in San Ramon. I was born in the United States but my ethnicity is half Taiwanese from my dad's side, and half Malaysian from my mom's side. I am also super passionate about giving back to the community and helping others. I have a second-degree black belt in Taekwondo, competed in national competitions, and am currently helping teach lower ranks as well. When I have free time I enjoy playing with my dog and watching Netflix. Over quarantine, I finished watching the whole series of Grey's Anatomy and other tv shows and movies.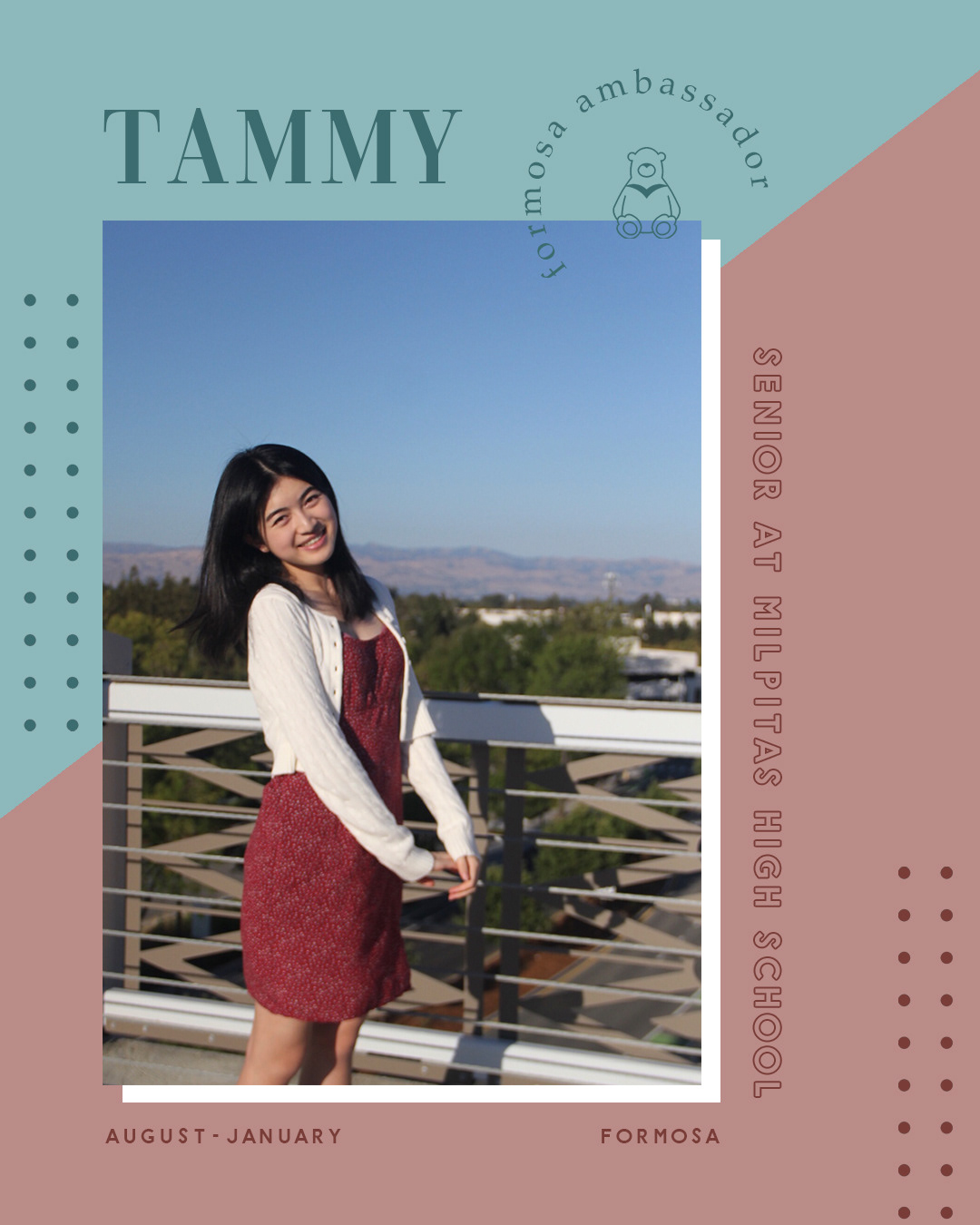 Hi! My name is Tammy and I'm a senior at Milpitas High School. My ethnicity is Taiwanese and I was born in San Jose. Here are a few things you should know about me! I'm a HUGE foodie and shopaholic. In my free time, I enjoy bingeing on NCIS and kdramas ;) A few of my hobbies are singing and tennis - I've been in a choir for 12 years now ;0 This quarantine, I started sewing bucket hats and sold clothes on my online shop! Nice to meet you all<3
Hi! My name is Chloe and I'm a sophomore at Foothill High School. My mom is fully Taiwanese and my dad is a combination of Swedish and German, which makes me hapa.  I play soccer and tennis competitively but also for my school. I have played the piano for 8 years, and recently I've been learning the ukulele. In my free time, I like to bake and play with my cat! During quarantine, I've been spending a lot more time outside enjoying nature!!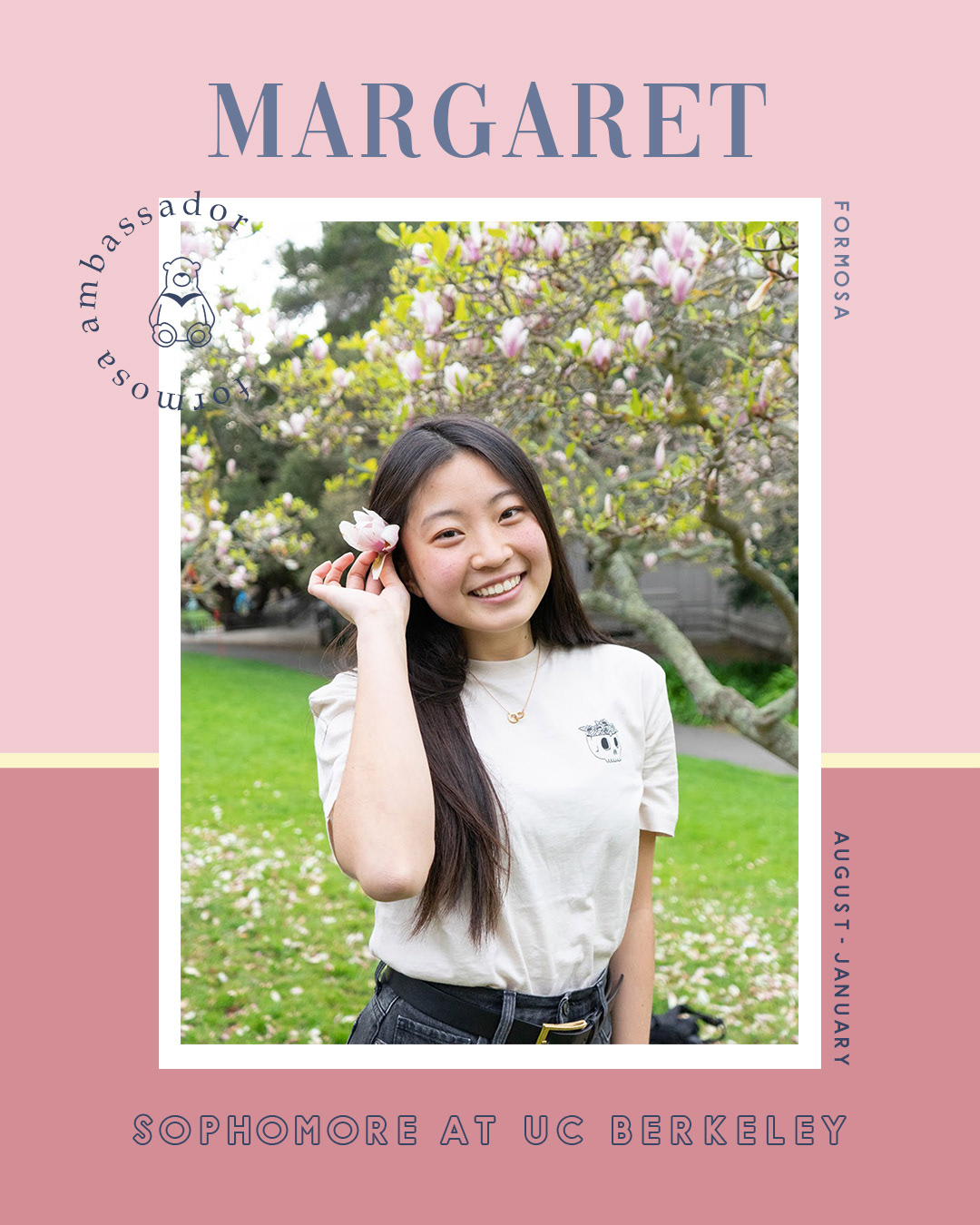 Heyo! I'm Margaret, a sophomore at UC Berkeley studying cognitive science and economics. I'm from the 408 area near San Jose and Los Gatos and I love visiting my family in Taiwan! I'm super interested in design and neuroeconomics and I love getting to know new people too. I used to be pretty involved in the performing arts department in high school, where I was drum major and on the drumline of the marching band for 4 years. You can find me playing ultimate frisbee, exploring graphic design, cooking, or watching Netflix during my free time!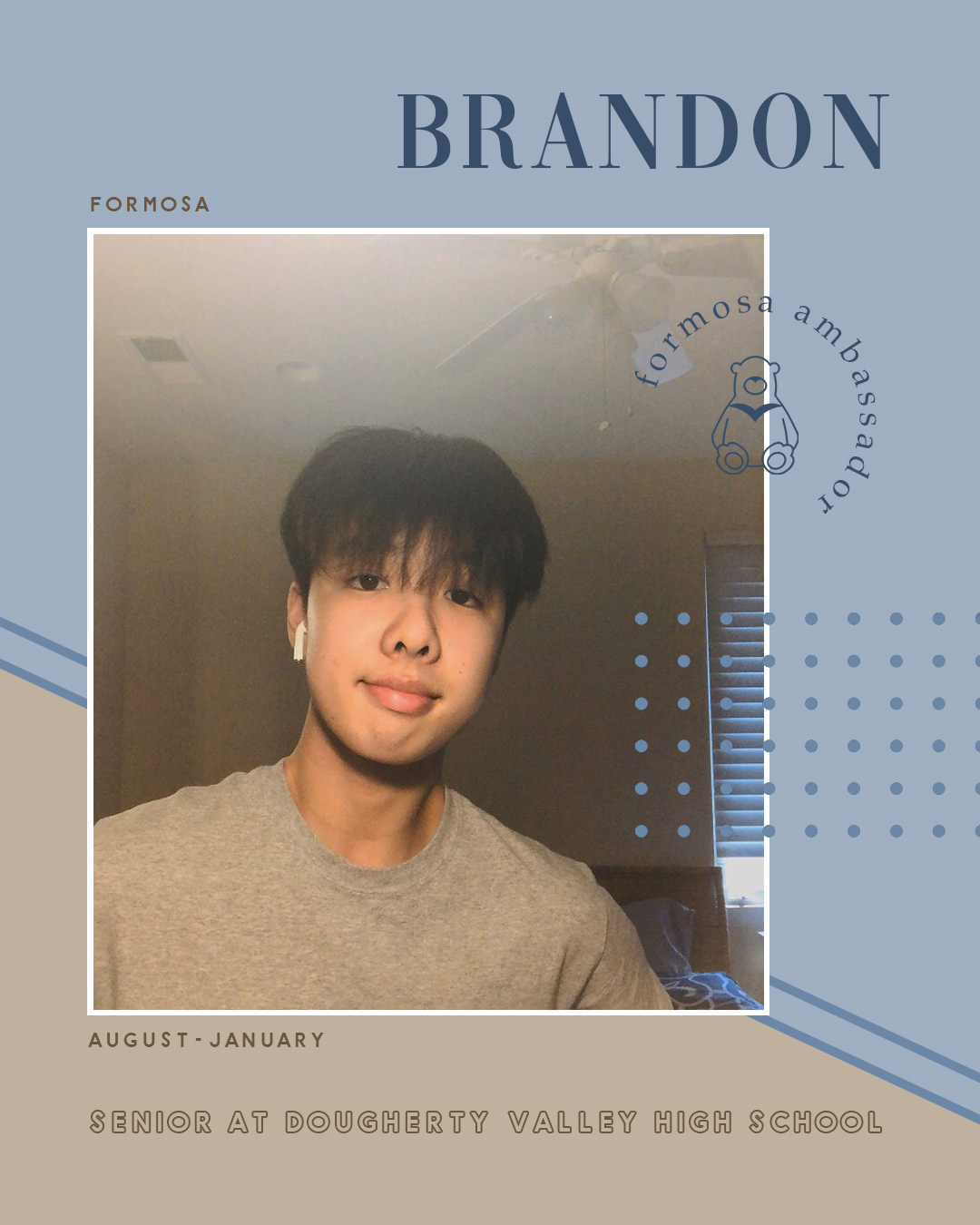 Hello! I'm Brandon and I am currently a senior at Dougherty Valley High School. Although I have been living in California my whole life, I am a Taiwanese-American who has a strong passion for my ethnic culture. I have been swimming for 13 years and also have recently been hired as a lifeguard. Due to COVID reasons, I had to change my hobbies and I have recently getting into photography and composing some music.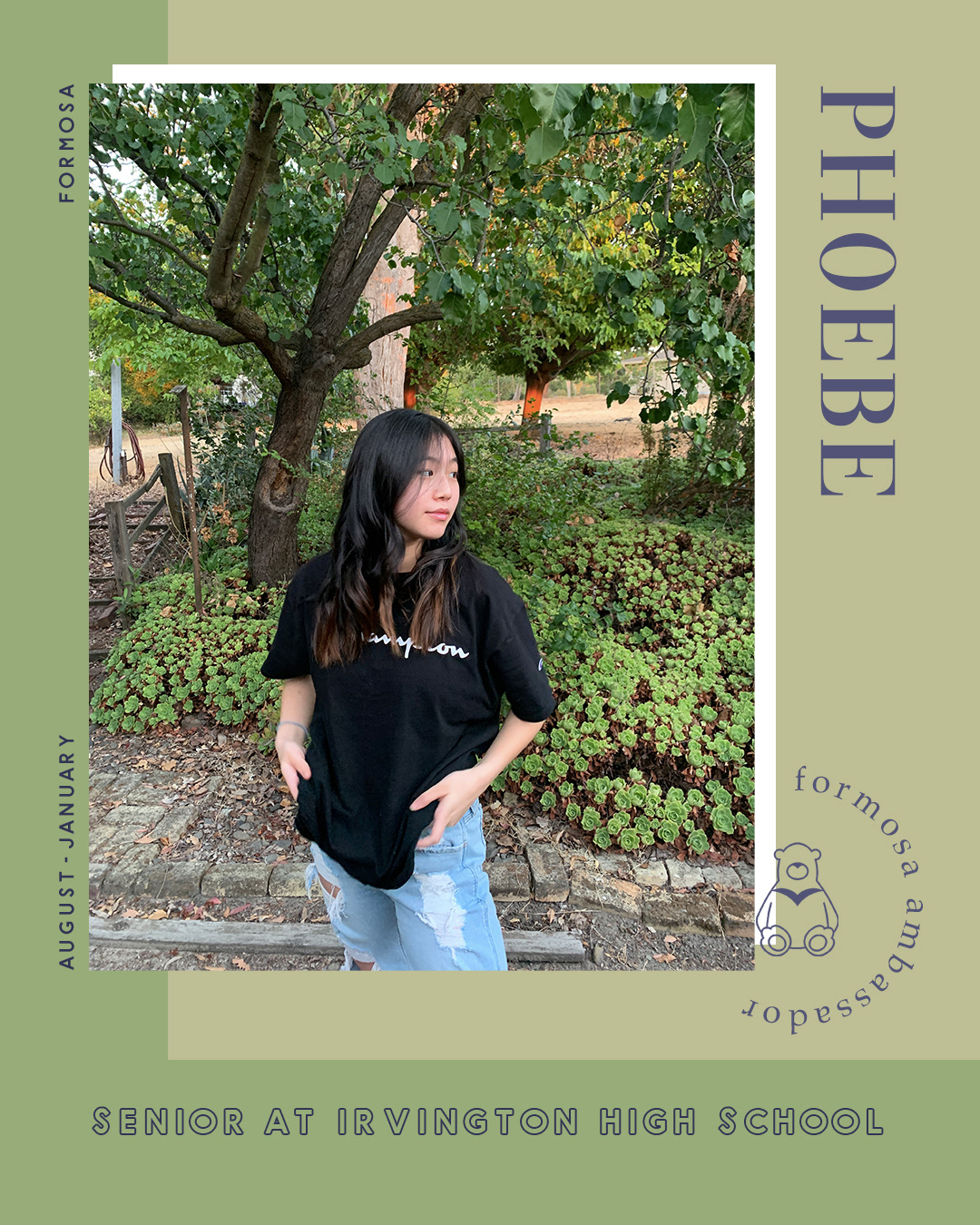 Hello!! My name is Phoebe and I am currently a senior at Irvington High School. My ethnicity is Taiwanese and I was born in Hayward. Some fun facts about me are that I play golf, I'm a boba barista, I love volunteering, and I have a slight obsession with agents of shield. Over quarantine, I've spent a lot of time binge watching Netflix shows, watching tiktoks, and working out!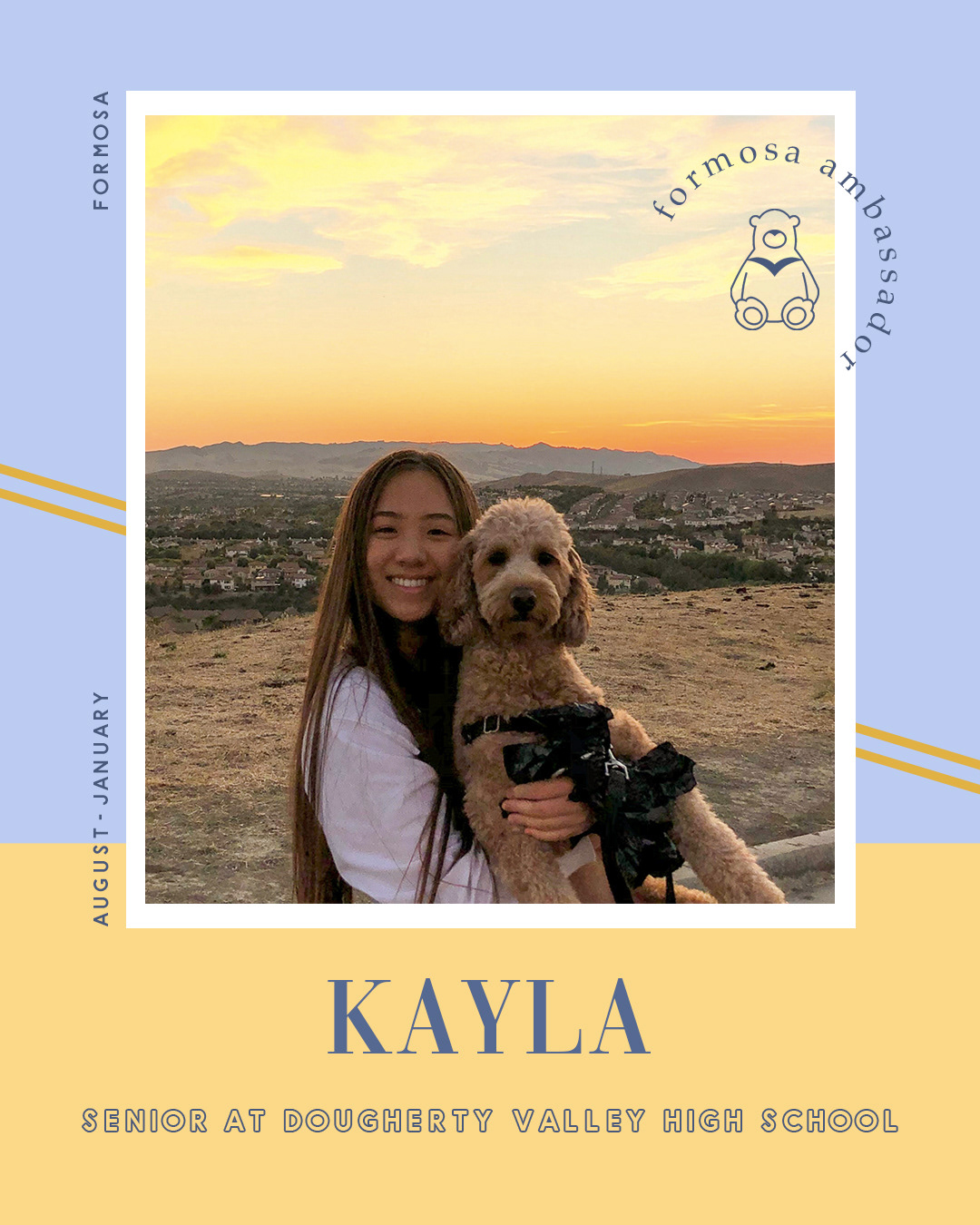 Hi! My name is Kayla and I'm a senior at Dougherty Valley High School! I am super excited to be apart of the Formosa team this first session! I grew up in San Leandro but my ethnicity is Chinese. My family and I enjoy our frequent trips to Chinatown and eating dim sum! I love to swim, travel, and do arts and crafts. Over quarantine, I've had a lot of family movie nights! Besides my screen time skyrocketing, I've had a lot of me time which has been very needed. I can't wait to work with the wonderful team to create new and exciting content for you all!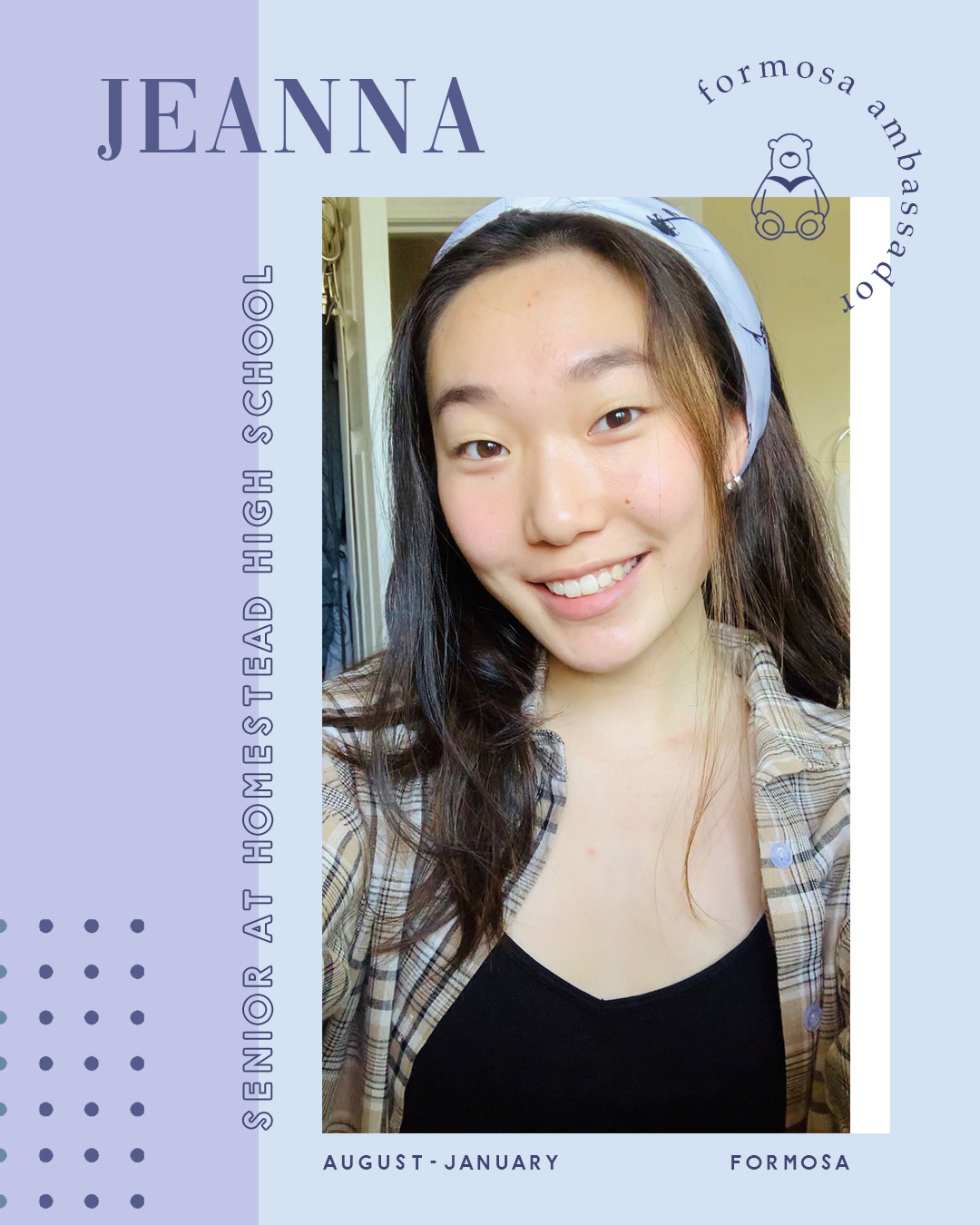 Hi everyone! My name is Jeanna and I will be one of your 2020 project formosa ambassadors! Ever since I was young i loved bringing people together and helping those in need. Luckily project formosa has the same goals, and I am so excited to be apart of the team! I hope to bring creativity and enthusiasm to the team, and bring thoughtful and cute products to you!